The VX25 Ri4Power system is a modular based switchgear system ideally suited for both Power Distribution Systems and Motor Control Centre's. From form 2a control panels to form 4b switchgear, Ri4Power is flexible to meet the requirements of today's market and is compliant to the latest international switchgear standards IEC 61439.
Automation across the electrical and electronics industry, is being driven both by a boom in mechanical and plant engineering and by the deployment of more increasingly powerful drive technologies. This market trend has led to innovative solutions, being developed for power distribution for Rittal.
New 6300 amps Systems
To complete the range, Ri4Power has successfully tested to 6300 amps for 100kA for 1 second. Fully compliant with all leading air circuit breaker manufactures such as Siemens, Schneider and ABB. Extra wide doors, trim covers, divider shelves and enclosure frames, are readily available to accept the new width of circuit breakers.
The configurator can generate the larger connection drawings easily and assembly manuals are available, to assist at each point of the build, enabling panel builders to complete manufacturing in-house.
To achieve the new power ratings, the existing busbar system is doubled, this is enabled through the installation of an additional copper busbar. In addition, the standardized 2 busbar sizes 30 x 10 and 50 x 10 maintains consistency during assembly, it also makes handling of the copper busbar easier and quicker even at 6300 amps.
To accept the increase in the numbers of incoming cables, to achieve the 6300 amps, the popular Maxi PLS stair busbar is available. This enables improved cable connections and increases the segregation of the incoming cables, from the ACB compartment.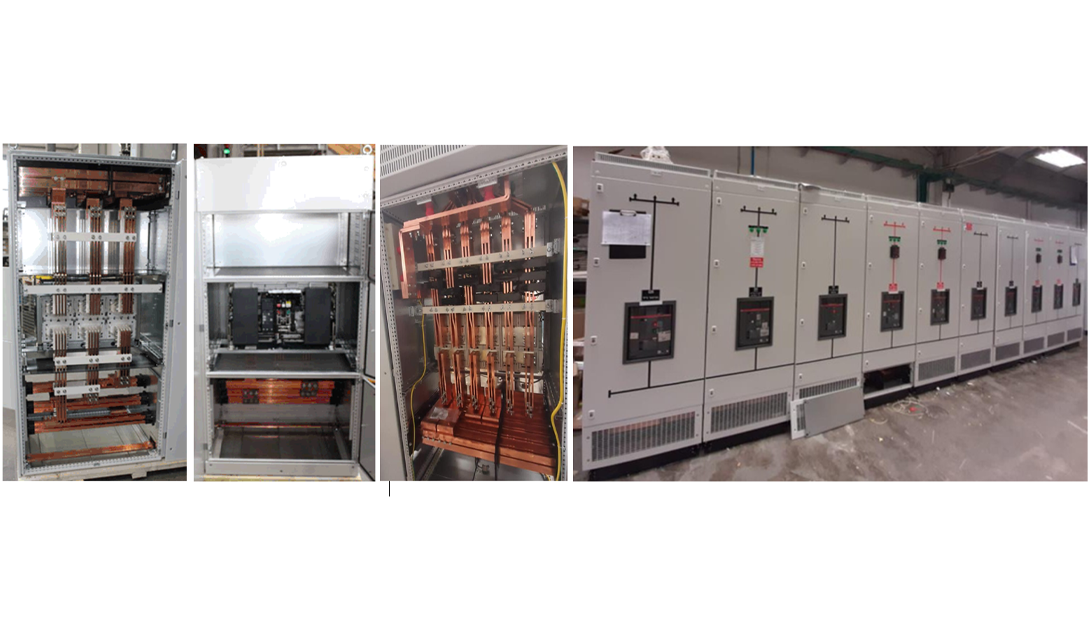 Web Based Configurator System
Planning for a project is now child's play with the user-friendly power engineering configurator, faster assembly with up to 50 per cent time savings, on new product innovations and fewer part numbers both simplifies the assembly process and increases efficiency.
When developing the configurator system, for Rittal usability was a key focus during the development phase. As the configurator system is highly intuitive and requires the input of only a few parameters. This enables manufacturers, even those with no previous experience, to simply and reliably configure IEC compliant switchgear. Furthermore, interfaced with EPLAN Electric P8 the configuration system has the capabilities, to export bill of materials to MS Excel and the import and the exportation of data maintenance reports, will also be possible by the end of this year.
Using Rittal's Power Engineering Configurator software, all drawings for connections can be generated. This enables the connections to be made in house, reducing costs and labour time for your business. Internal and external assembly layouts are available in PDF or CAD formats.
To view the Ri4Power Low Voltage Switchgear Configurator, follow the link below:
VX25 Enclosure System
Based on the new VX25 enclosure, this version of the Ri4Power is now even more efficient at distributing electrical power across industrial environments. It also delivers, a range of other benefits such as higher current ratings plus easier monitoring and maintenance. The welded frame makes Ri4Power strong and reduces assembly times with no requirement to fix frame corners. All solutions based on this system, have been tested and certified to IEC 61439.
Using the VX25 enclosure system and the Ri4Power together is ideal, as it is a solid framework and parts are common for both ranges. Using the VX25 standard platform allows for switchgear, control sections and open wardrobe enclosures to be bayed together, making the VX25 Ri4Power ideally suited for power distribution, drive systems and even energy storage systems.
Follow the link below to learn more about the VX25 Power range and its capabilities with power distribution.
To keep up to date on all the latest Ri4Power and Web based configurator webinars, training tips and whitepapers sign up to receive direct updates to your inbox here: