As a global leader in mechanical and electrical infrastructure, you would naturally expect Rittal to have a strong presence at the show, this year we will be positioned on stand E100. Also exhibiting with us is our sister company EPLAN, a leader in electrical design software. Rittal and EPLAN will be exhibiting together on the same stand this year.
Rittal and EPLAN together provide a partnership, that delivers a unique approach to the industrial automation process, from design to deployment and all points in between. At this years Drives & Controls, discover how Rittal and EPLAN bring together a modular engineering philosophy, with precise Rittal automation systems machines and powerful, database-driven electrical engineering.
Rittal The System, at Drives and Controls 2022
Visitors to Rittal's stand E100 will be able to see Rittal's renowned infrastructure solutions are widely specified as the number one choice, for protecting critical equipment.
With a range of innovative enclosures for internal and external applications, climate control, heating, cooling systems, power distribution, switchboard and motor control products on display plus some exciting new product innovations.
We're taking this opportunity to showcase not only our VX25 baying system, but also our AX and KX range of small enclosures. These innovative enclosure system demonstrates how Rittal, can offer time saving cost effective solutions, for a wide range of industries. In addition we'll be showcasing our new VX 25 Ri4power system, the modular based switchgear system which is ideally suited, for both power distribution systems and motor control centre's.
Cooling solutions are key to effective and efficient enclosure systems, at this years Drives and Controls, be sure to check out the new IIoT Interface. This allows Blue e+ cooling units, to be networked with customer-specific monitoring and energy management systems. This in turn makes it possible, to add new applications such as predictive maintenance and data analytics.
The Blue e+ range has become the industry leading enclosure cooling solution, with energy savings of up to 75%, its difficult to see how Rittal, could improve the range. Be sure to check out Rittal's stand for a sneak peek, at our latest ground-breaking development to the Blue e+ range.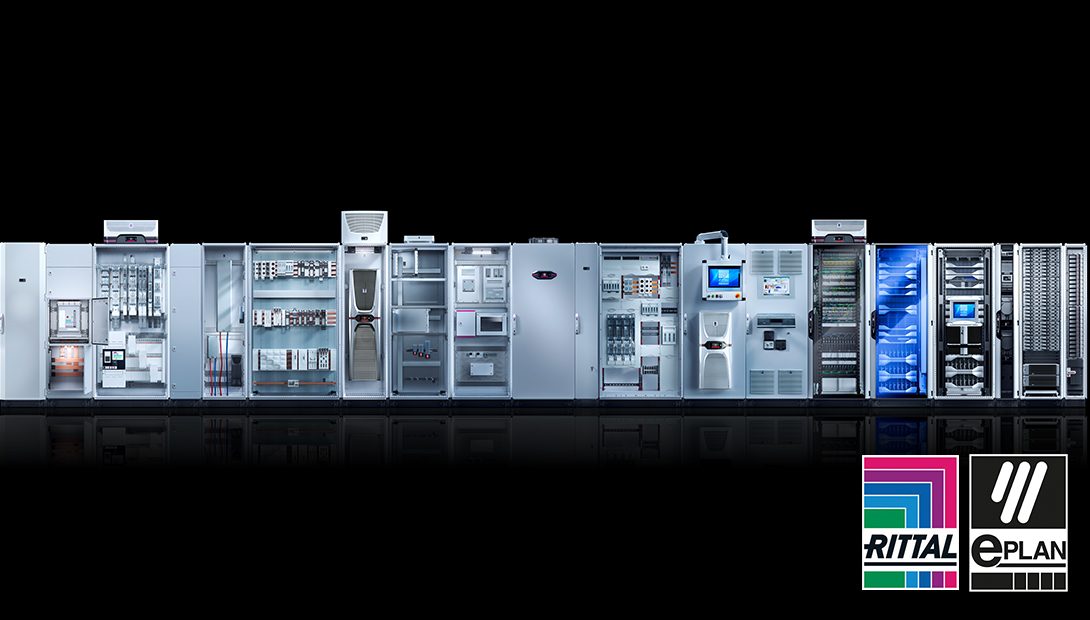 Rittal's team of experts will be on-hand to discuss key issues
Rittal and Eplan's experts will be available at the show, to answer questions relating to some of the key issues facing the industry, in today's challenging and ever-changing environment.
How can systems and people be reliably protected against danger?

How can power consumption be made transparent and significantly reduced?

How can maintenance scenarios for cooling devices be planned in advance?

How can enclosures in the food industry be hygienically climate controlled?
How can controller and switchgear manufacturers implement Industry 4.0 solutions, automate production processes and set up data centres quickly and easily?
How can smart production facilities face the change of creating IT infrastructure in harsh environments
So let Rittal's team of experts guide and assist you with any current applications or requirements, you have for protecting critical equipment and delivering game-changing industrial automation.
Smart production, shielding your IT equipment in harsh environments
The increase and development of smart production facilities creates challenges when creating IT infrastructure to support the latest technologies, such as IOT devices, robotics and the collation of industrial analytics. Frequently these new technologies require IT to get closer to smart production equipment, to improve the speed and reliability of data communication. This means that increasingly IT infrastructure, are having to move out of there secure computer room and be located on the factory or shop floor.
Rittal will be using Drives and Controls as an opportunity, to exhibit quick and easy IT solutions for all applications. IT products highlights on display at the show will include Rittal's NEW VX IT Rack and the Rittal IT cooling units.
Smart engineering from Eplan
Thanks to the synergies between EPLAN systems and Rittal products, almost all aspects of control panel manufacturing, can be automated, which shortens processing times, minimises the risk of error, optimises the use of materials and increases productivity. At this year's Drives and Controls, EPLAN will be showcasing innovative solutions for enhanced engineering, whilst showcasing the link to Rittal's digital twin.
So, If you're attending Drives and Controls this year, be sure to visit stand E100 to discover how Rittal and EPLAN can deliver major productivity enhancements to your business.
To register to attend Drives and Controls 2022, follow the link below:
To find out more about Rittal - The System, follow the link below: