Production being halted represents the 'worst case scenario' for plant operators. However, in hygiene-critical production situations, long downtimes are often unavoidable because of the amount of cleaning required. In meat-processing plants, for example, machines must be at a standstill up to 40% of the time, to allow for essential cleaning work.
"Typically, industrial wall-mounted enclosures and standard enclosures for machines and plant are not designed to support a need for fast but effective cleaning," said Emma Ryde, product manager for Industrial & IT Enclosures at Rittal. "Their basic design can even make cleaning more difficult, as any dirt traps will become a breeding ground for germs."
Hygienic design stands for one principle above all: provision for the simple and thorough cleaning of everything that could come into contact with food products – from the machine to its enclosure. It is particularly important to remove 'dead spaces' or undercuts of any kind, as well as joints without radius, because such points are particularly prone to product residue accumulations. For the same reason, surfaces with recesses, such as the uncovered threads of screw connections, or screw heads with internal hexagons or Torx screws, are not allowed. Corners and joints need to be smooth, gap-less and cleanly rounded. To ensure that sprayed water is able to run off the surfaces of housings and enclosures in spray and wet zones, appropriately angled drain slopes should be provided.
The Rittal Hygienic Design (HD) enclosures meet these tough hygienic requirements. In addition to terminal boxes and compact enclosures Rittal also has a product portfolio ranging from enclosures to operating housings for safely accommodating electrical equipment. The range has been designed to meet the requirements, regulations and guidelines of the food and beverage industry. All external parts are made of stainless steel, which provides good resistance to chemicals, cleaning agents and disinfectants.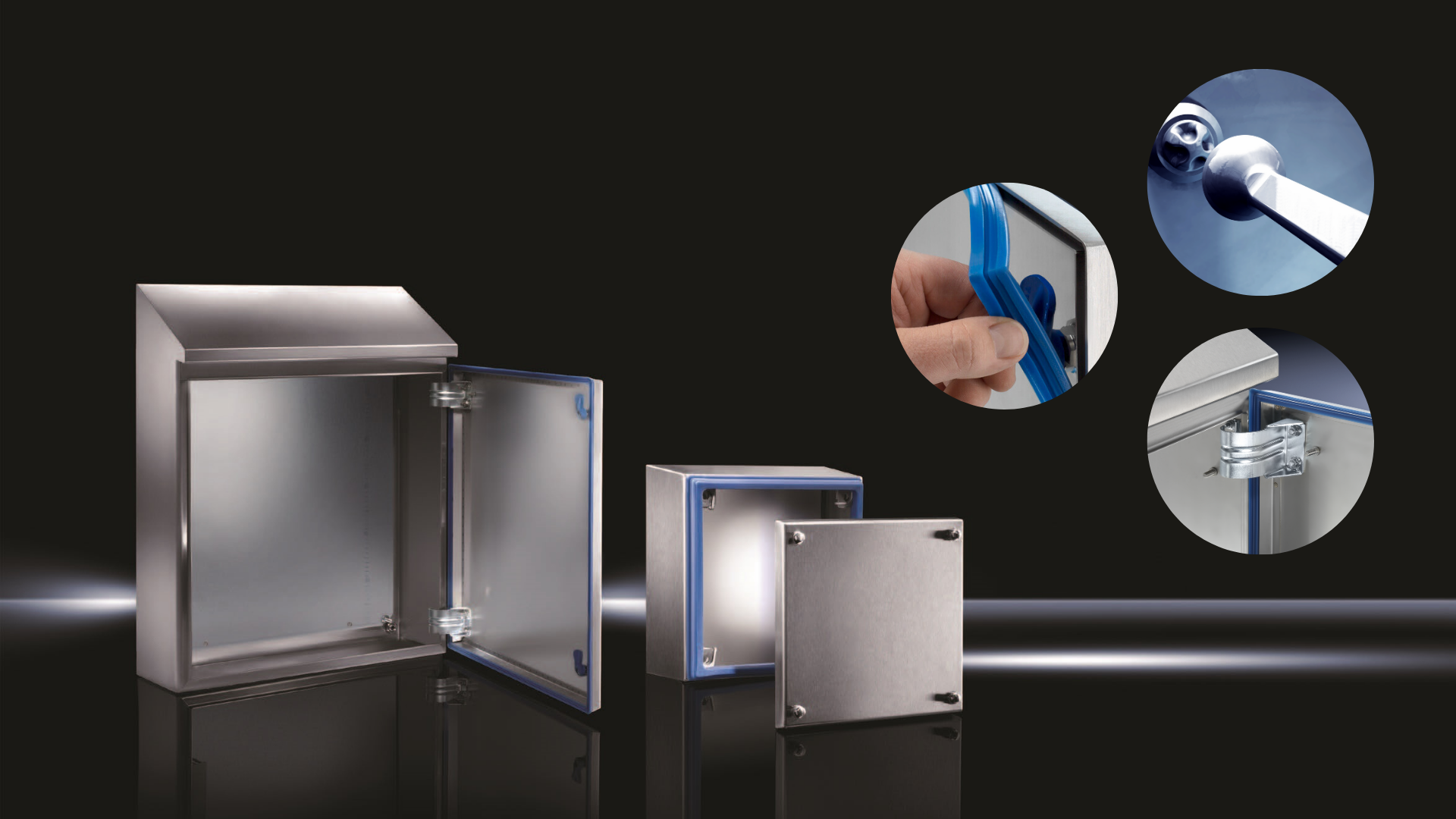 The enclosures meet the IP 66 protection category in accordance with IEC 60529 and DIN 40 050-9 IP69 K, which means they can be cleaned with a high-pressure cleaner without any impact on their internal contents.
The door seals are made of silicone instead of polyurethane (PU foam), which is more resistant to all kinds of detergents, and dyed blue, which makes it identifiable as a foreign object in the event of any mechanical damage.
Discover more about the required regulations for hygienic designed enclosures in the free whitepaper: